When we arrived in Eilat, Jeff and I went straight to the beach. I was disappointed. I saw no real beach to speak of. There was no sand, only broken pieces of ugly grey rocks. In other words, my naked eye did not see anything worth collecting for my Nattles.
It wasn't until the next day that my lenses were awaken by a three-year-old Israeli girl who was digging in the rocks. She proudly smiled, got up, and walked toward her ema (mother). While she past, she shyly showed me what she had found . . . pieces of coral from the nearby coral reefs. I was amazed. Each piece was extremely small but perfectly formed. We started up a conversation (with Jeff and the child's ema acting as interpreter). The little girl told me, "I did not find it right away. I had to look a while."
Next she proceeded to find flat rocks and to stack them. I was about to show her how to look first for the largest. Experience has taught me to hold back, and sure enough, she quickly discovered this trick on her own as she shared with me, "You can build a big palace and if it falls down, we're just going to build a new one."
A bit later she asked her mother, "Why does she (meaning me) not speak to me like I speak (meaning her)? With the help of her ema, I asked the same question in reverse to her. We smiled and said good bye to one another in Hebrew. A wonderful interchange and teaching from a young child.
The next day I returned to the beach to give searching for coral and seashells another try. This time I knew to look for very small items. It took me forever, but I eventually had a handful. Then suddenly I noticed a great difference in my vision. I was now able to spot the coral and shells from a standing position. Another amazing experience about lenses and vision was introduced to me here on the beach in Eilat.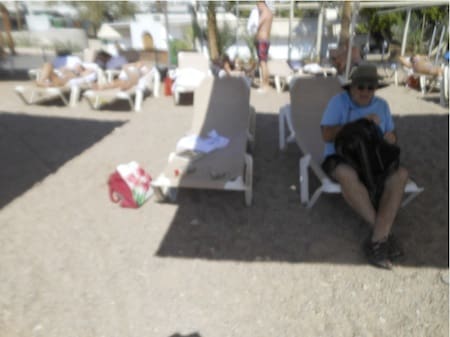 This is where we met Tamari who showed me how to find coral in this sea of rocks.