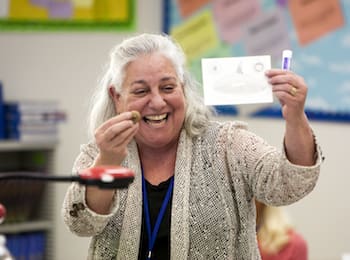 I am an early childhood educator and consultant specializing in the professional development of early childhood educators and nurturing the spiritual life of children. Sharing visions of spiritual moments, deep connections, and children's dispositions help to guide my work with schools, educators, and most importantly, with children.
After years of teaching and developing curriculum, the question about spiritual development fell into my lap while I was outdoors on the playground with the children and the worms.  I simply could not turn my back on this amazing and important question. And so I began a new chapter in pursuit of answers!
When I returned from my first trip to Reggio Emilia, I began collaborating with my husband, Rabbi Jeffrey Schein, as well.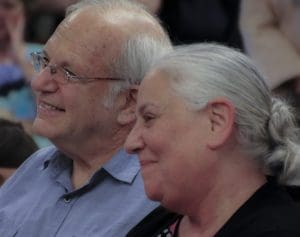 A lifelong Jewish and family educator, Rabbi Jeffrey currently directs the Amphibious Jew Project and Text Me: Ancient Jewish Wisdom Meets Contemporary Technology. Jeffrey's specialties include professional development and teaching Jewish texts that create family learning experiences.
Together, we have developed a seminar series, "The 100 Languages of Children Meet the 70 Faces of Torah", a workshop for Jewish educators and for Jewish children and their families, designed to create frameworks for learning across the Jewish life cycle through exploration of holidays, seasons and nature, text study, blessings, art, spirituality, and values / midot. The constant interplay of these two metaphors continue to stimulate and challenge our work.
I'm also the author of two books: Nurturing Spiritual Development in Children by Understanding Our Own Spirituality, published in December, 2016 by Whole Person Mental Health and Wellness, written in collaboration with my dear friend, author and mental health advocate Ester Leutenberg; and Inspiring Wonder, Awe, and Empathy: Spiritual Development in Young Children, due out in September, 2017 from Redleaf Press.
I invite you to connect with me on these important topics so that we may pursue this important work together.
~ Deborah L. Schein, PhD
Photo credit, Deb in the classroom: Jason Rogers, Argonaut Studios
Photo credit, Deb and Jeffrey: Art Biagianti