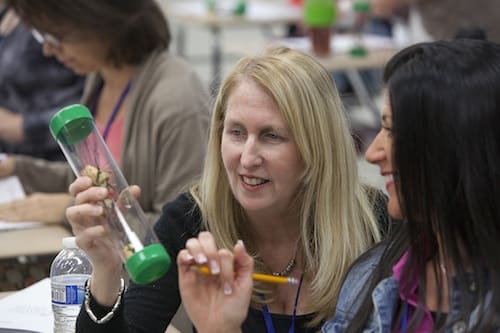 Working directly with teachers, both at professional development conferences and through long-term engagements, my workshops inspire educators' interactions with children, creativity within the classroom environment, and their own spiritual development.
Here are some of the hands-on workshops I developed and have taught recently:
Science, Play and Spirituality:
Children's Deep Engagement and Learning
National Association for the Education of Young Children (NAEYC) Conference, Los Angeles, CA (November, 2016)
Visions of Children and Beautiful Spaces
Agency of Jewish Learning, Pittsburgh, PA (August, 2013)
This workshop was designed for educators and directors as inspiration for beginning the school year.  The lens focused on the integration of Reggio Emilia philosophy to Jewish early childhood education. 
A Spiritual Beginning
Pittsburgh, PA (August, 2013) This workshop focused on an integration of nature, aesthetics and Judaism.

The Spiritual Life of Children
NewCaje Conference, Dudley, OH (July, 2013)

Nattles™ (nature rattles)
Biosophical Society, Punderson State Park,  Cleveland, OH  (July, 2013).
I shared my theory of spiritual development with an early childhood school and we all made Nattles™
Nurturing the Spiritual Life of Young Children
Akron, OH (June, 2013)
This workshop ended with  teachers exploring and making their own Nattles™ (nature rattles) for their classrooms.
I also co-create and lead enriching educational programs, for families and for professionals, with my husband, Rabbi Jeffrey Schein:
The 100 Language of Children Meet the 70 Faces of Torah
Here we integrate Reggio Emilia philosophy with Jewish text, holidays, and values.
Judaism for Young Children and Those Who Love Them
An exploration of selections from a new book we are currently writing together, in which we discuss the gifts of Judaism – spirituality, growth, nature, learning, Jewish experiences – and the integration of holistic Judaism, including practical resources for educators and parents living in today's digital world.
See what people are saying about Deb's workshops!
Learn about Deb's nature bottle-making workshops for adults, teachers, families, and children.
*Photo credit: Jason Rogers, Argonaut Studios