Sharing my Research on Spirituality with an Efrata Early Childhood Study Group
I was pleased and surprised to find that David had created a study group of educators similar to the Ohio study groups now known as OVL (Ohio Voices of Learning). The group I met with has been meeting for two years, and this year's questions happens to be about spirituality.
First, everyone wrote down their belief about spirituality and education. They wrote their answers down in Hebrew, and my husband later translated a few for me:
Spirituality for me is like a whisper. It is inside the heart. It's my talking with myself and to feel that everything is a possibility. It's about my connection to God?
Spirituality –it's made up of something very deep.
It's an elevated state of being. Tefillah (prayer) is part of it and it is something that is hard to talk about.
It's about something deep, something precious, and it's about established knowledge (Keva – things you inherit or are already established.)
When they finished this discussion, we moved to my PowerPoint, which was translated into Hebrew by Dr. David Brody. The first response was one of shock … how can we speak of spirituality separate from faith development? Others seemed more engaged and curious.
At the end of my presentation, I asked the educators to share with me what they might take away from this evening together. Here is what they said:
It was a surprise.
"Spirituality can be found in daily activities."
Devorah: "We sing all day but not when we sit here." (The here was where they do tefillah.)
"I can enjoy the little things." (This educator wanted to know how I do this so well.)
"We live a more spiritual life than I realized."
Ruthi: "What I discovered (is that) I can look at spirituality from different angles through wonderment." (Aside – Ruthi helped with some translation and I later visited her classroom.)
Sarah: "Spirituality is in little things."
Reli: "It has astonished me. Spirituality leads to Torah from everyday – a little from what you do."
"Now I understand why Bet Mikdash is so special."
Devorah: "I have always understood that spirituality is above, but now I see the spirituality on the earth in the children. We forget there is something wonderful when we see the world through the eyes of the children."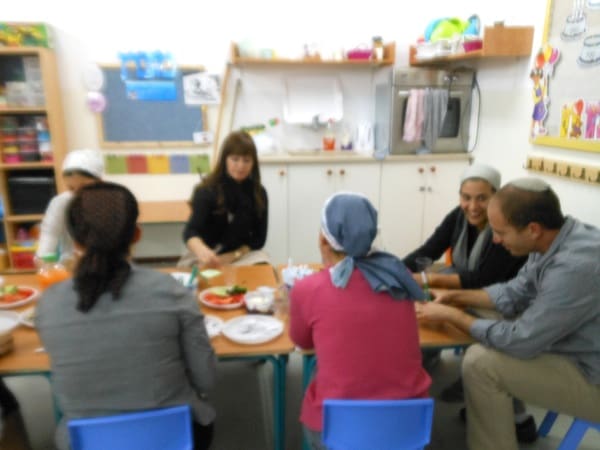 Reflecting back, David was still concerned about the response of faith vs. spirituality. We spoke about the possibility of looking deeper into this question. I would like to phrase this exploration as looking into the relationship between spiritual development and faith development, rather than the conflict between them. More on this later.